The San Francisco Board of Supervisors just unanimously passed legislation allowing for the addition of new in-law units throughout Districts 3 & 8. This affects the following neighborhoods: Chinatown, Nob Hill, Russian Hill, North Beach, Fisherman's Wharf, Polk Street, the Financial District, Union Square, Castro, Eureka Valley, Upper Market, Noe Valley, Duboce Triangle, Diamond Heights, Glen Park, College Hill, Corona Heights, Buena Vista, Twin Peaks, Mission-Dolores, and parts of the Inner Mission.
This comes in the wake of city-wide legislation passed earlier this year allowing unlimited density to be added to residential structures within a building's existing footprint when 'structural upgrades' (such as seismic retrofitting) are also made. While the legislation passed today does not stipulate structural upgrades, new in-law units must be added within the existing envelope of the building.
"It's great to know we can add housing without changing the exterior configuration of buildings, and of course the possibility to add rent-controlled housing in 2015 is exciting." – Julie Christensen, Supervisor, District 3
Meredith Martin is a Broker Associate at Paragon Real Estate Group and can be reached at Meredith@OpeningDoors.me
No San Francisco neighborhood has so squarely positioned itself at the epicenter of opposition to rising housing costs than the Mission District. Of course, housing un-affordability is but one of many rapid changes in the neighborhood, and seeking legislative action is but one response (sidebar: remember when protestors were blocking tech shuttles?) — and median home prices have soared 76% citywide since 2011! For now, let's take a focused look at some of the real estate sales dynamics in the Mission.
August 2007, at the peak pre-recession height of local real estate, a TIC at 901 Guerrero Street (below) sold for $955,000. The 3-bed and 1.5-bath Edwardian was purchased for 12.5% more that its list price and in 26 days on the market.
Earlier this year, in February 2015, I represented the buyer of 901 Guerrero Street sold for $1,650,000. This time, the property returned favorable to the market with a fresh coat of paint, a successful condo-conversion on the record, and convenient proximity to "every tech bus." The winning bid (of course there were competing offers!) after only eight days on the market came in at 18% over asking. The San Francisco Chronicle even wrote about it.
Given that 901 Guerrero did have a significant value-adding improvement between 2007 and 2015, consider still that its 2015 price is nearly 75% higher than at the previous peak. It's not uncommon for properties to be improved from one sale to the next, and it makes sense that those properties will sell for higher prices, all else equal. Couple that with record-low inventory and cash investors, and now not even techies (let alone teachers) can compete as homebuyers. Since 901 Guerrero Street sold, I've seen comparable properties in the neighborhood sell for even higher. What's a city like San Francisco with its economy supercharged by the high-tech boom to do?
There appears to be a "try everything" approach in the works for the Mission.
First, a ballot initiative calling for an 18-month moratorium on new market-rate residential developments in the Mission has been approved for the November 2015 ballot. If passed, the effect of the moratorium on neighborhood home prices can be debated. Because the overwhelming majority of housing in the Mission is market-rate which is favored by homebuyers, constraining supply could drive prices of existing homes higher. Alternately, negative attitudes toward an influx of affordable housing could lead residents to leave for other neighborhoods and influence homebuyers to buy elsewhere, ultimately hurting market-rate resale values.
Second, the city is feeling pressure to build more affordable housing units right now. Such developments, like 490 South Van Ness at 16th Street, are permanently reserved for low-income, median-income and moderate-income residents. Below Market Rate housing is purchased for a fraction of market value– not a single unit has sold in the Mission since March 2014 (and a 2-bedroom BMR condo in the Inner Mission is listed right now for just under $450,000). Plus, projects like these can take a year or more to construct once ground is broken, meanwhile the price of affordable housing continues to rise with $15 minimum wage.
Lastly, flood the market with new housing units of all kinds to help meet demand and stabilize prices as quickly as possible. There are 26 residential developments planned for the Mission and a few have begun construction (see the entire pipeline of residential projects in San Francisco here). Still, the pace of new units coming to the market pales in comparison to the city's growth of employed residents (yes, people can afford to relocate to San Francisco even with housing costs as they are). Some sites available in the Mission could be bought by the city for affordable housing, and the proposed moratorium would give it enough time to organize and fund the investment.
A 2015 Yale School of Management survey of recent home buyers found that a quarter of San Francisco respondents has the extravagant expectation for annual home price increases of 10% or more annually for the next 10 years. Although more likely be closer to 5%, it could happen. In 20+ years working locally in real estate, I've learned to never underestimate the voracity of the San Francisco market. I'm of the opinion San Francisco median price trends are headed the direction of Tokyo, Sydney and London toward $3,000 per square foot. Before we get there, though, we may find ourselves asking sooner rather than later: When does an affordable housing unit cost a million dollars?
Meredith Martin is a Broker Associate at Paragon Real Estate Group and can be reached at Meredith@OpeningDoors.me
To live and play in our City by the Bay can feel like a surreal experience– an intersection where diverse peoples, foods, architecture, experience and dreams join together and overlap to create a magical whole much greater than the sum of its parts. Paul Kantner once wrote: San Francisco is 49 square miles surrounded by reality.
We are fortunate to have a little bit of everything here; Living in San Francisco means we can get a taste of the world without leaving the confines of the city.
Ever wanted to visit Japan or Italy? How about Morocco? Here are 14 international hotspots within SF city limits that'll have you breezing through 11 separate countries.
If you do happen to catch a flight overseas this summer, you may be interested in seeing how far $1,500 per month rent goes in other parts of the world compared to San Francisco (where the median rent for a one-bedroom apartment in June 2015 was $3,500 per month). Spoiler Alert: Cairo is the place to be if you want a skyline view with pyramids on a budget — Sorry, Transamerica!
Meredith Martin is a Broker Associate at Paragon Real Estate Group and can be reached at Meredith@OpeningDoors.me
Guests are coming, the kids are out of school, or you just want to do something different than usual. Summer has arrived in one of the most beautiful and multi-dimensional places on earth, and here is a wide variety of ideas for making the most of it.
Food & Drink
Top 100 Restaurants
Zagat's Best
Outdoor Dining & Drinking
Best Meal Delivery
Best Breakfast
Best Brunch
Best Burritos
Best Sandwiches
Best Pizza
Best Hamburgers
Best Dim Sum
Best Bars
Beer Drinking
Coffee Drinking
More Coffee
Best Desserts!
Out & About
Things to Do
To Do with Kids
To Do in Oakland
To Do in Marin
In Napa & Sonoma
Mountain Biking
City Walks
Best Views
Hiking Trails
Running Clubs
LGBT – To Do
Sunday Streets
City Parks
Dog Parks
Farmers' Markets
Sports Teams
Sports Calendar
Arts & Culture
Arts & Entertainment
More Arts Events
Nightclubs
Music
Museums
Ballet
Opera
Symphony
Theater
Meredith Martin is a Broker Associate at Paragon Real Estate Group and can be reached at Meredith@OpeningDoors.me
I was recently introduced to an international all-cash home buyer who had come to San Francisco for one week on a mission to find housing for his two young adult children. Initially looking at rentals in the Infinity, Ritz Carlton and AVA Nob Hill in addition to some properties on Nob Hill and Russian Hill, it wasn't long before I was asked the question: Does it make more sense to buy a place?
Unless you are fortunate to live in a rent controlled building, you may have noticed your monthly rent rise dramatically in recent years. Since July 2014, the annual growth rate of rents has in fact outpaced that of home prices in San Francisco. Checking in at $3,500 per month, the median rent for a one-bedroom has been the highest in the country for four months following a 13.5% rise last year (and up as much as 29.2% in Noe Valley). For many renters, what they pay out every month could easily be a mortgage payment on a comparable place– the monthly Principal + Interest on a $1,000,000 home is $3819.32, assuming 20% down and a 30-year mortgage fixed at 4%. Now consider that nearly half the properties for sale right now are listed for under $1,000,000.
Plugging in local San Francisco data (June 2015 sales figures) to the New York Times' Rent vs. Buy calculator reveals some compelling numbers. Buying a condominium at June 2015's $1,100,000 median sale price or a single-family home at the $1,301,000 median is a better financial decision even if you could rent for free!
The assumptions I made in the above calculations are as follows:
Purchase price: $1,100,000 for condos, $1,301,000 for single-family homes
Length of time in home: 5 years
Mortgage Rate: 4%
Down payment: 20%
Length of Mortgage: 30 years
Home price growth rate: 14.3% for condos, 19.4% for single-family homes (12-month y-o-y average, the NYT calculator maxes out at 15%)
Rent growth rate: 13.5% (median one-bedroom increase in 2014)
Investment rate of return: 7% (approx. long-term average annual ROI of stocks)
Inflation Rate: 2%
Property tax rate: 1.19%
Marginal tax rate: 28%
Taxes filed on a Joint Return
Costs of buying a home: 3% (approx. closing costs)
Costs of selling a home: 8% (approx. closing costs + marketing + customary 5% commission to brokers)
Maintenance/renovation: 1%
Homeowner's insurance: 0.1% (approx. $50-$100+ per month depending on property type)
Monthly utilities: $100
Monthly common fees: $600 for condos, $0 for single-family homes
Common fees deduction: 0%
Security Deposit: 1 month
Broker's fee: 0%
Renter's Insurance: 0.1%
Not a stranger to the costs involved in carrying a property (and the long-term wealth-building benefit of homeownership), my client weighed the trade-offs of buying in San Francisco vs. renting at a maximum $10,000 per month. And… drum roll, please… he found that buying was the better option for him!
San Francisco condominium median price growth, 2005 to present: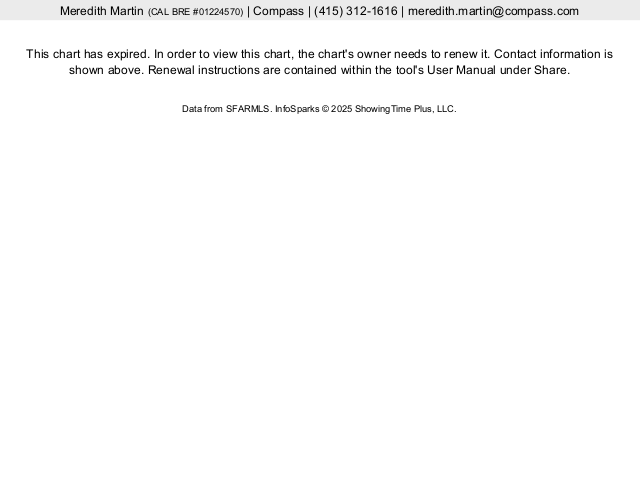 San Francisco single-family home median price growth, 2005 to present: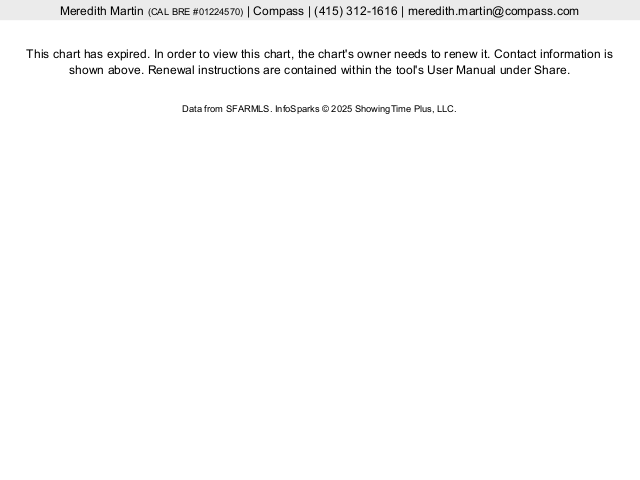 Meredith Martin is a Broker Associate at Paragon Real Estate Group and can be reached at Meredith@OpeningDoors.me