The San Francisco Board of Supervisors just unanimously passed legislation allowing for the addition of new in-law units throughout Districts 3 & 8. This affects the following neighborhoods: Chinatown, Nob Hill, Russian Hill, North Beach, Fisherman's Wharf, Polk Street, the Financial District, Union Square, Castro, Eureka Valley, Upper Market, Noe Valley, Duboce Triangle, Diamond Heights, Glen Park, College Hill, Corona Heights, Buena Vista, Twin Peaks, Mission-Dolores, and parts of the Inner Mission.
This comes in the wake of city-wide legislation passed earlier this year allowing unlimited density to be added to residential structures within a building's existing footprint when 'structural upgrades' (such as seismic retrofitting) are also made. While the legislation passed today does not stipulate structural upgrades, new in-law units must be added within the existing envelope of the building.
"It's great to know we can add housing without changing the exterior configuration of buildings, and of course the possibility to add rent-controlled housing in 2015 is exciting." – Julie Christensen, Supervisor, District 3
Meredith Martin is a Broker Associate at Paragon Real Estate Group and can be reached at Meredith@OpeningDoors.me
I was recently introduced to an international all-cash home buyer who had come to San Francisco for one week on a mission to find housing for his two young adult children. Initially looking at rentals in the Infinity, Ritz Carlton and AVA Nob Hill in addition to some properties on Nob Hill and Russian Hill, it wasn't long before I was asked the question: Does it make more sense to buy a place?
Unless you are fortunate to live in a rent controlled building, you may have noticed your monthly rent rise dramatically in recent years. Since July 2014, the annual growth rate of rents has in fact outpaced that of home prices in San Francisco. Checking in at $3,500 per month, the median rent for a one-bedroom has been the highest in the country for four months following a 13.5% rise last year (and up as much as 29.2% in Noe Valley). For many renters, what they pay out every month could easily be a mortgage payment on a comparable place– the monthly Principal + Interest on a $1,000,000 home is $3819.32, assuming 20% down and a 30-year mortgage fixed at 4%. Now consider that nearly half the properties for sale right now are listed for under $1,000,000.
Plugging in local San Francisco data (June 2015 sales figures) to the New York Times' Rent vs. Buy calculator reveals some compelling numbers. Buying a condominium at June 2015's $1,100,000 median sale price or a single-family home at the $1,301,000 median is a better financial decision even if you could rent for free!
The assumptions I made in the above calculations are as follows:
Purchase price: $1,100,000 for condos, $1,301,000 for single-family homes
Length of time in home: 5 years
Mortgage Rate: 4%
Down payment: 20%
Length of Mortgage: 30 years
Home price growth rate: 14.3% for condos, 19.4% for single-family homes (12-month y-o-y average, the NYT calculator maxes out at 15%)
Rent growth rate: 13.5% (median one-bedroom increase in 2014)
Investment rate of return: 7% (approx. long-term average annual ROI of stocks)
Inflation Rate: 2%
Property tax rate: 1.19%
Marginal tax rate: 28%
Taxes filed on a Joint Return
Costs of buying a home: 3% (approx. closing costs)
Costs of selling a home: 8% (approx. closing costs + marketing + customary 5% commission to brokers)
Maintenance/renovation: 1%
Homeowner's insurance: 0.1% (approx. $50-$100+ per month depending on property type)
Monthly utilities: $100
Monthly common fees: $600 for condos, $0 for single-family homes
Common fees deduction: 0%
Security Deposit: 1 month
Broker's fee: 0%
Renter's Insurance: 0.1%
Not a stranger to the costs involved in carrying a property (and the long-term wealth-building benefit of homeownership), my client weighed the trade-offs of buying in San Francisco vs. renting at a maximum $10,000 per month. And… drum roll, please… he found that buying was the better option for him!
San Francisco condominium median price growth, 2005 to present: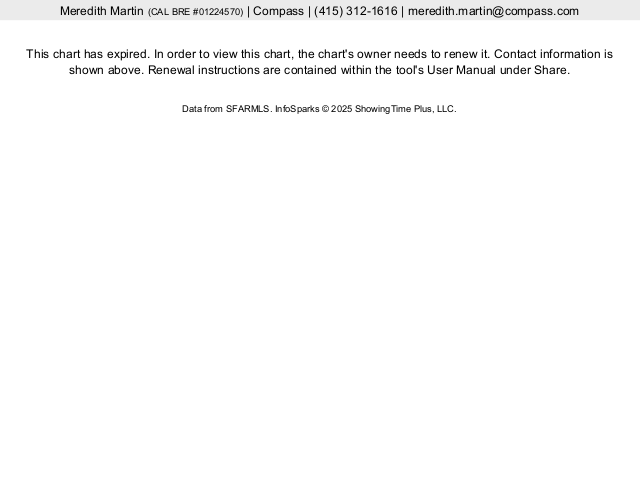 San Francisco single-family home median price growth, 2005 to present: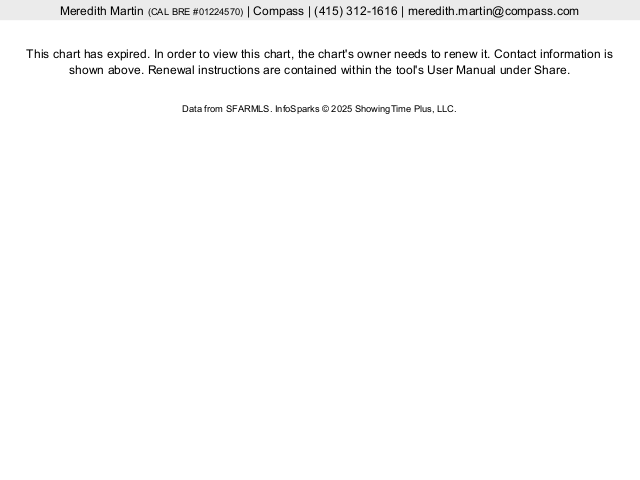 Meredith Martin is a Broker Associate at Paragon Real Estate Group and can be reached at Meredith@OpeningDoors.me
Are you thinking of buying or selling your home? Perhaps you're expanding and considering your current home as an investment property and entering it in the rental market? The 4th quarter is historically filled with low-inventory and quiet real estate offices. The holidays are a wonderful time to begin exploring your options.
To begin, set your financial house in order. File tax returns early to ease the process and align with a trusted mortgage lender. Connect with your financial planner to gage stock option sale limits and advantages.
Next, engage a San Francisco realtor. Reach out to friends and family or visit Yelp for community reviews. Most importantly interview a few experienced agents to find a comfortable relationship. Agents will schedule a no obligation initial meeting to discuss your needs and present their skills, strategy and network of professionals to aid in your property transition. A strong realtor is a resource, listening to your interests and priorities to best leverage their knowledge and experience in your market place.
The value of a realtor rests in advising informed decision making, negotiating contracts, competitive advantages and mitigating risk. The holidays are an excellent time to build a relationship with an agent. The limited competition gives agents the extra time and edge to gather property comparisons, market knowledge and customize a team of real estate professionals to represent your interests.
An agent's thorough preparation prior to sale offers tools to increase the value of your home. A talented realtor will schedule a walk-thru of your property and suggest maintenance and improvement upgrades to maximize your return on investment. An agent will advise on market timing and conditions and design a comprehensive marketing presentation, including home staging, internet marketing, traditional marketing and activate industry networks to improve matching buyers and sellers.
The rental market in San Francisco is amazing. Would you like to be advised on the value of your property in the rental market? According to Colliers Research Report, all rental markets are showing growth of 12% over the past 12 months. This may warrant keeping your current property and expanding to a new one. A seasoned expert will address your lifestyle needs and financial interests to secure a smooth and successful transition.
Beginning the process of buying, selling or renting your San Francisco real estate over the holidays, results in an organized, detailed and opportunistic endeavor. To schedule a no expectation conversation with Zephyr Real Estate Broker and Assistant Sales Manager Rita Roti, please email rita@ritaroti.com or call (415)432-2114. Cheers and happy holidays!
Rita Roti is a broker associate / assistant manager at Zephyr Real Estate and can be reached at Rita@ritaroti.com.
A trend is spreading across the country, less square footage is more living. As a raging housing market battles for competitive square foot prices, behind the front-lines, a transition targeting quality of life supplied by ease and simplicity stands. San Francisco, Fort Worth and New York City are carrying a new American lifestyle, living large in micro-housing. Tiny house architects and dwellers alike are prioritizing freedom from tiresome property management, favoring an affordable lifestyle choice.
The micro-housing movement is a part of a much larger change. According to these pioneers, like HausBau Architects, the vision behind Cubix-SF, an urban micro-condo building, living in a modest 200-300 square feet in of one of the country's highest priced locations is very attractive. Even San Francisco District 8 Supervisor Scott Wiener is campaigning for budget friendly micro-accommodations.
He is leading the legalization and construction of existing property in-law units, ranging in size from 200-750 square feet. "Our housing crisis is a complex one, and no one policy proposal will solve it. The units will have to be within existing habitable space – i.e., a garage, a large storage space, a large basement area. The units will have to come from unused space," said Wiener to The Bay Area Reporter.
With smart and thorough design concepts, narrow spaces lend a cozy, efficiency without sacrificing functionality. Natural light, air and creative storage solutions reduce the tension between acquisition and display for a clean and modern aesthetic. Ancient design concepts are recycled to prove compact quarters save on tidy time, energy costs and encourage a limited footprint alongside Green living. "Even when you're in these relatively tight areas, the eye doesn't focus on the smaller moments- you're getting borrowed views from the other rooms, making the space feel more generous", says architect Philip Ryan of Studio Modh Architects in Brooklyn, New York. Tiny homes compliment their natural landscape, drawing the outdoors inside to broaden and protect the environment. To further expand the appeal of these small settings, architect Peter Fehrentz of Berlin, Germany encourages the use of a variety of color tones from the same palette to maximize the calming effect. He further suggests removing as many interior walls as possible and installing sliding doors to open and transform a scaled-down home.
San Francisco's wave of miniature, cost-effective lodging has been borrowed from deeply rooted international traditions. With a historic focus on minimalism due to high-density population, space limits and affordable housing challenges, European innovators Gore, Gibberd and Saunders of Hampshire, England constructed the Emsworth Yacht Harbour in the late 1960's. 50 elevated, free-standing structures span a modest 538 square feet. Arranged neatly in rows to capture privacy and sea views, residents share a unique and secret community get away. Units are highly desired. Most ownership transactions happen off-market, from word of mouth.
The micro-housing market's momentum has spawned plans for a community of tiny homes state side in Sonoma County, California. Jay Shafer of Four Lights Tiny House Company is experimenting with the possibilities of micro-dwellings. Set to be completed by 2015, Shafer has zoned 70 houses to each be under 400 square feet. There's even a conversation for a communal farm for residents. Currently, a restricted, yet active tiny house community in Washington D.C. serves as a teaching ground for Shafer's big sister west coast project.
As holistic self-sustainability turns critical, will pairing life down to the essentials be the exclusive path to living large?
Rita Roti is a broker associate / assistant manager at Zephyr Real Estate and can be reached at Rita@ritaroti.com.
The public hearings are over, the feedback has been heard, and all that is left is final approval to the  school assignment  changes on Tuesday September 28th.
From Jill Tucker at The San Francisco Chronicle
How students are assigned to schools is historically the most controversial issue related to the city's public schools, and this new plan is no exception.

Parents for years have called for a replacement for the current system, one that would be easier to understand and give them a fighting chance to get in the school down the block or to one attended by an older brother or sister. The new plan was a compromise that will to do just that.

It also will provide a greater opportunity for children living in census tracts where test scores are lowest to attend a high-performing school. At the same time, district officials hope that eventually it will increase diversity in schools in a city with stark residential segregation. [More…]
So, how's it going to work?
Assignments to high-demand schools would be determined using this  order of preferences:

Elementary schools

— Students with older siblings in the school.

— Students who attended a San Francisco Unified School District preschool in the school's attendance area.

— Those in census tracts where test scores are low.

— Those in the preferred school's attendance area.

— Those in attendance areas where the number of students exceeds space in schools.

— All others.

Middle schools*

— Students with siblings in the school.

— Those in census tracts where test scores are low.

— All others.

High schools

— Students with siblings in the school.

— Those in census tracts where test scores are low.

— All others.

*For those participating in choice process
I know what my friends and clients are saying, they are concerned about the middle school feeder program (which is being postponed for a year) they worry about keeping their children in the same schools, and they wonder how this will affect their property values.  Certainly in other areas, values are affected by what schools the area feeds into and how those schools perform. There is also a concern about fairness.
Some say the school boundaries are unfair; others complained that the system still fails to guarantee access to their neighborhood schools; still others say the system will actually increase segregation.

Parent John Somoza said he doesn't think it's fair that some families assigned to a low-performing school will have a greater chance of getting into a better school than others who live perhaps a half-block away.

Somoza lives within the Cesar Chavez Elementary attendance zone. But his is the only census tract in the school's area where the children don't post low test scores. That means Somoza and his nearest neighbors won't have any priority if they want their children to attend other schools, like everyone else assigned to Chavez, which is among the lowest-performing schools in the state.

"It has some of the lowest (test) scores in the city," said Somoza, who has a 2-year-old son. "But it's also just a matter of fairness that everyone else in that attendance area can leave and we can't."

That might not seem fair, but district officials said they applied consistent strategies in creating the attendance zones. Even so, they said, trying to balancing high- and low-scoring census tracts couldn't be done given residential housing patterns.

Instead, district officials considered student population in neighborhoods around schools as well as topography, highways, bus routes and parks, said Orla O'Keefe, the superintendent's special assistant for student assignment.
Will this cause parents to be more active in their children  school, to work for improving the individual schools?  I wonder.  But the lottery system has been hated by many for so long, it will be interesting to see how this plan plays out.